It was 1968, a time so unsettled in America that some spoke of revolution. San Francisco's Haight-Ashbury had become nationally, even internationally, known as a haven for those attempting to turn dropped-out flamboyance into new ways of life. Political unrest produced two assassinations and would turn the Democratic National Convention into a riot. In the world of art, Color Field painting and Pop Art were reaching maturity while new developments were appearing with extraordinary rapidity as Minimalism splintered into Conceptualism, Performance Art, and Earthworks. New York's Lower East Side was generating a new neighborhood known as the East Village. On Manhattan's Upper West Side, the American Surrealist William Copley had leased a third-floor loft and invited his fellow artist to exercise a collaborative freedom few had experienced before or would experience again.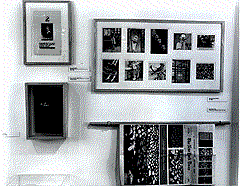 Lew Syken, the project's chief designer, remembers the SMS studios as a place where "it was impossible to anticipate what would happen next. On a given day, you never knew who would show up." It might be Pop artist Roy Lichtenstein, Alain Jacquet, representing French Pop, Marcel Duchamp, or Richard Artschwager. Meret Oppenheim and Man Ray, veterans of Surrealism and Dada, contributed to SMS. There were many others, some as renowned as Christo,Claes Oldenburg, and John Cage, others known only as the authors of works included in one of SMS's six portfolios. Like an astronomer's time-lapse photograph, SMS caught many bright and familiar stars. It also registered the presence of the most elusive comets.
Details of SMS's complex, often round-the-clock and always chaotic working days were managed by Copley's associate, Dimitri Petrov. Copley himself (who had made his reputation as a painter under the abbreviated signature "CPLY") occupied a corner office with a view of West 80th Street and Broadway. Here, with his long flowing hair and red velvet bell-bottom suit, he greeted visitors and presided over a buffet perpetually replenished by nearby Zabar's Delicatessen, an open bar, and a pay phone with a cigar box filled with dimes. It was no small wonder that the SMS loft was a haven for both accomplished and aspiring artists.
No manifesto made the claim then, so one must make it now: SMS turned art into the vehicle of Utopian wishes. First, it removed all boundaries between the mediums. Everything, from poetry to performance to traditional print making, received equal treatment. This principle of equality carried over to money matters: every contributor, no matter how illustrious, received a flat $100 for his or her work. Moreover, SMS bypassed the hierarchical labyrinth of museums and established galleries. Portfolios were sent directly to subscribers on the faith that an audience put in immediate contact with art would have a direct and therefore powerful response.
This faith, the foundation of the SMS Utopia, was to some extent justified. Yet some of the potential audience must have felt bewildered by the prospect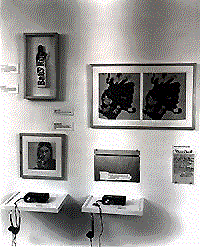 of receiving in the mail a heterogeneous bundle of artworks announced but unexplained. You undid the parcel and made whatever you could of the plenitude that tumbled out. Every work had its own thoroughly independent meaning, for SMS was at its most Utopian in the respect it paid to artists' intentions. On the other hand, the sheer lavishness of that respect for individuality generated a significance that belongs to the project as a whole. Art aside from ordinary life by the aura of galleries and museums, and art history is somehow separate from our larger history. But SMS's Utopian impulses overcame that separation. Sending art into the world through the mail, it immersed art in the currents of real time.
Because Copley ensured that money was no object to the realization of any proposal, it was possible to replicate a fragment of an artist's oeuvre with astonishing accuracy. As just one example, Rotella's "Six Prison Poems" written during the artist's Roman imprisonment on drug charges, have the look and even the feel of the paper scraps on which they were clandestinely written.
Each of the six portfolios bulges with similar examples of texts or images or combinations of the two that give us intimate proximity to aesthetic intentions. Even accidents were preserved with extraordinary fidelity. Having completed a drawing for the cover of SMS No. 6, Richard Artschwager happened to splash it with coffee. Instead of removing th stains, he preferred it to be produced stains and all, with results that show at full, ironic force the delicacy- and bluntness- of Artschwagerian wit. The visionaries of Constructivism, de Stijl, and the Bauhaus used technology as a springboard to a realm unencumbered by accident or artist's touch. They defined Utopia as individuality transcended. SMS defined it as individuality enhanced.
Each portfolio is a dossier on the subject of personal singularity and the way to establish a favorable relationship between an artist's impulse and the impersonal means of mechanical reproduction. Gathering up traces of those individual impulses, preserving them through replication, then merging them with the flow of daily life, SMS showed artists how to come to terms with forces that often drive them into the seclusion of the studio. Often crowded with students hired to carry out some particularly laborious procedure (for example, to open the 8,000 H.C. Westermann letters sent to William Copley for inclusion in portfolio No. 3, or to burn 2,000 of Lil Picard's bowties), the studio at Broadway and 80th was nothing like a sanctuary. The city - and the decade of the 1960's - coursed through it, leaving marks we can now detect and decipher in the contents of the SMS protfolios.
As a surrealist, William Copley believed in the unity of art and life. With SMS, he helped generate that unity. Nothing like it has appeared in the intervening twenty years. It is a reminder of what is possible when artists have the opportunity to work without impediments. To have an impulse was to realize it. SMS makes a brilliant case for art in real time.
| Enter Exhibit |