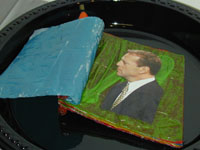 ©G.Wilson, Chicago USA 2001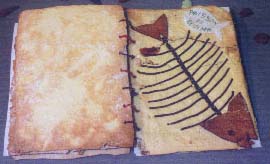 ©Matière Contact, Lyon-France 2000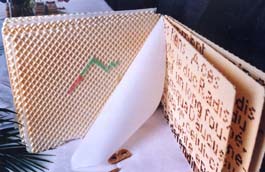 ©A.M. Kah: La fiancée du roi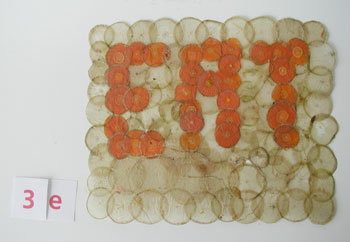 ©Suzie Bohm, Hamburg 2003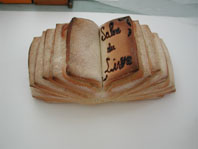 ©salon du livre, Paris 2002

Books2Eat's Links to other edible culture:
Art and Exhibitions:
the ABC gingerbread and other thoughts by Ludi Visser
Eat Art: Joseph Beuys, Dieter Roth, Sonja Alhäuser an exhibition at Harvard University Art Museums
Edible Art show at Santa Cruz Mountains Art Center in 2000
Edible Gems The Work of Maki Takahashi
Gallery of Thai fruit carving with Pam Maneeratana
The Food Museum
The Edible Monument at the Getty Research Institute
The Sugar Museum in Berlin, Germany
Wedding cakes gallery at edible-art.co.uk
History:
Culinary history research at the New York Public Library
April fool's day origin at infoplease
April Fool's day and the vernal equinox at snope.com
Inspiration:
Chocoland, Chocolate Prêt-à-porter
Food quotes at foodreference.com
Slow food for the defense of and the art of pleasure
Fun web movies: Muffin Films
Techniques and Resources:
Candyland craft, to buy ingredients and tools
Chocolate accents: to buy chocolate transfer, silkscreens and figures.
Edible Inks for inkjet printers
Edible Crafts: edible play dough and more from thepartyworks.com
Insect recipe from eatbug.com
Science of cooking by the accidental scientist
Sugar paste techniques by Imaginative Icing
Creative DIY Birthday Confectionery Crafts For Kids!
links checked: April 1, 2004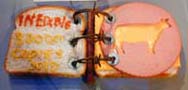 ©N.Karavasile "inedible"